The Lewis Center carries out research in four major dimensions of housing policy in order to inform and guide policy with evidence and to highlight the topics about which we need to learn more.  We currently focus on the Greater Los Angeles region, but many issues are highly relevant to other parts of the state and country.
Neighborhood residential preference policies attempt to curb residential displacement by setting aside units in new developments for people who live in the immediate area. Many people and agencies that these policies are in conflict and violation of the Fair Housing Act as they limit access to new residential units. In this brief, we explain the delicate balance between open access to housing and gentrification concerns with examples from San Francisco, New York City and Los Angeles. 
While there is no shortage of debate on Measure S, the public dialogue has been relatively uninformed about the likely consequences of the Measure, in part due to difficulties in working with the various data sources on permitting and housing construction in Los Angeles. In this brief, our best assessment of the available research and data leads us to conclude that if the Measure passes, rents and property costs in the Los Angeles region are likely to rise even faster than they are already.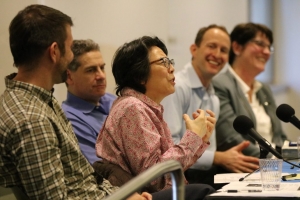 A complete video recording of the event available on YouTube
The merits of an upcoming ballot initiative in the City […]
In releasing a Housing Development Toolkit earlier this week, the U.S. Department of Housing and Urban Development amplified a growing chorus of voices calling for reform to regulations that limit housing production. The report […]
Southern California is in a perpetual state of change.  In recent years, regional planners have sought to focus growth near […]
Current Research Projects
No current projects found