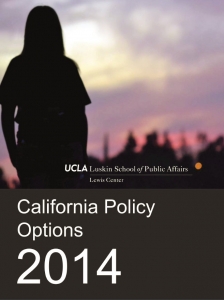 Authors:  Daniel J.B. Mitchell
Date: January 1, 2014
Project: California Policy Options 2014
Once again the UCLA Luskin School of Public Affairs offers California Policy Options, our annual collection of research and insight on the multi‐faceted issues and challenges facing the State, produced together with the Ralph and Goldy Lewis Center, which advances research solutions for California's urban and regional challenges, with an emphasis on transportation, economic development and housing, and the environment. For 2014, Professor Daniel J.B. Mitchell has collected and edited new and timely California‐focused articles by Luskin and Lewis Center center‐affiliated UCLA faculty and graduate students. Professor Mitchell has again contributed an original analysis of the state's budget processes and details.
As real‐world exemplars of policy analysis – across academic boundaries – on issues and problems important to all of us, these research articles are made available on Luskin School and academic websites as a resource for researchers, journalists, and citizens. The publication
also serves as a teaching tool, informing our students in the popular Luskin class on California policy issues co‐taught each winter quarter by professors Mitchell and Michael Dukakis.
Download Attachment