Policy Briefs
The Lewis Center produces rigorous and timely research on a number of topics, yet we recognize that busy people often lack the time to read lengthy reports. For that reason we created a series of two-page policy briefs that distill our reports into four main sections:
Research Topic
Recommendations
Study
Main Findings
We hope that these abbreviated versions of our research help public officials, policymakers, and the media make use of the robust empirical research carried out by the UCLA Lewis Center. Readers are encouraged to reprint and share these policy briefs.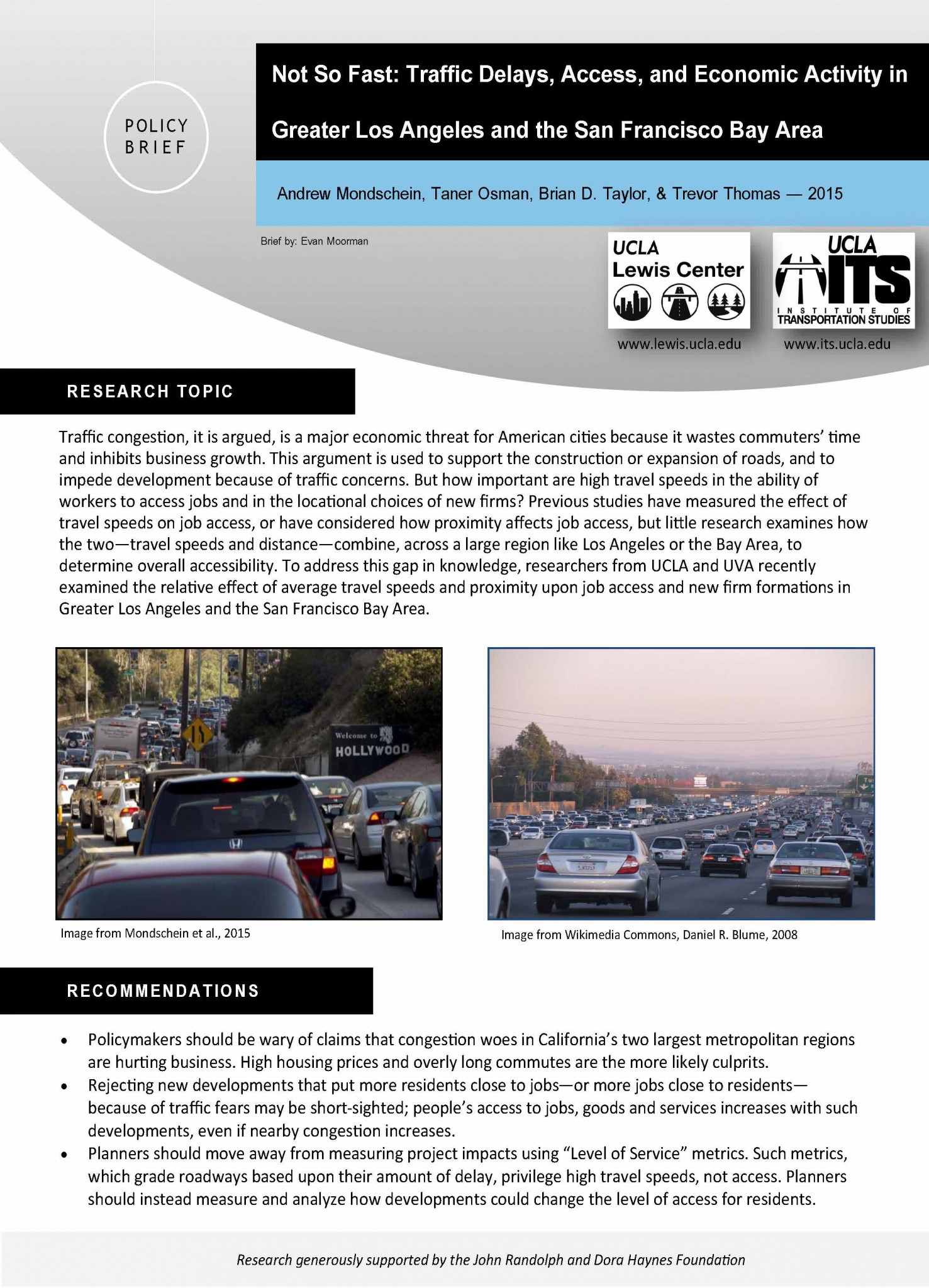 Author(s): Andrew Mondschein, Taner Osman, Brian D. Taylor, Trevor Thomas
Publication Date: December 20, 2016
Original Publication:
Housing
Author(s): Michael Lens, Paavo Monkkonen
Publication Date: April 1, 2015
Original Publication:

Do Strict Land Use Regulations Make Metropolitan Areas more Segregated by Income?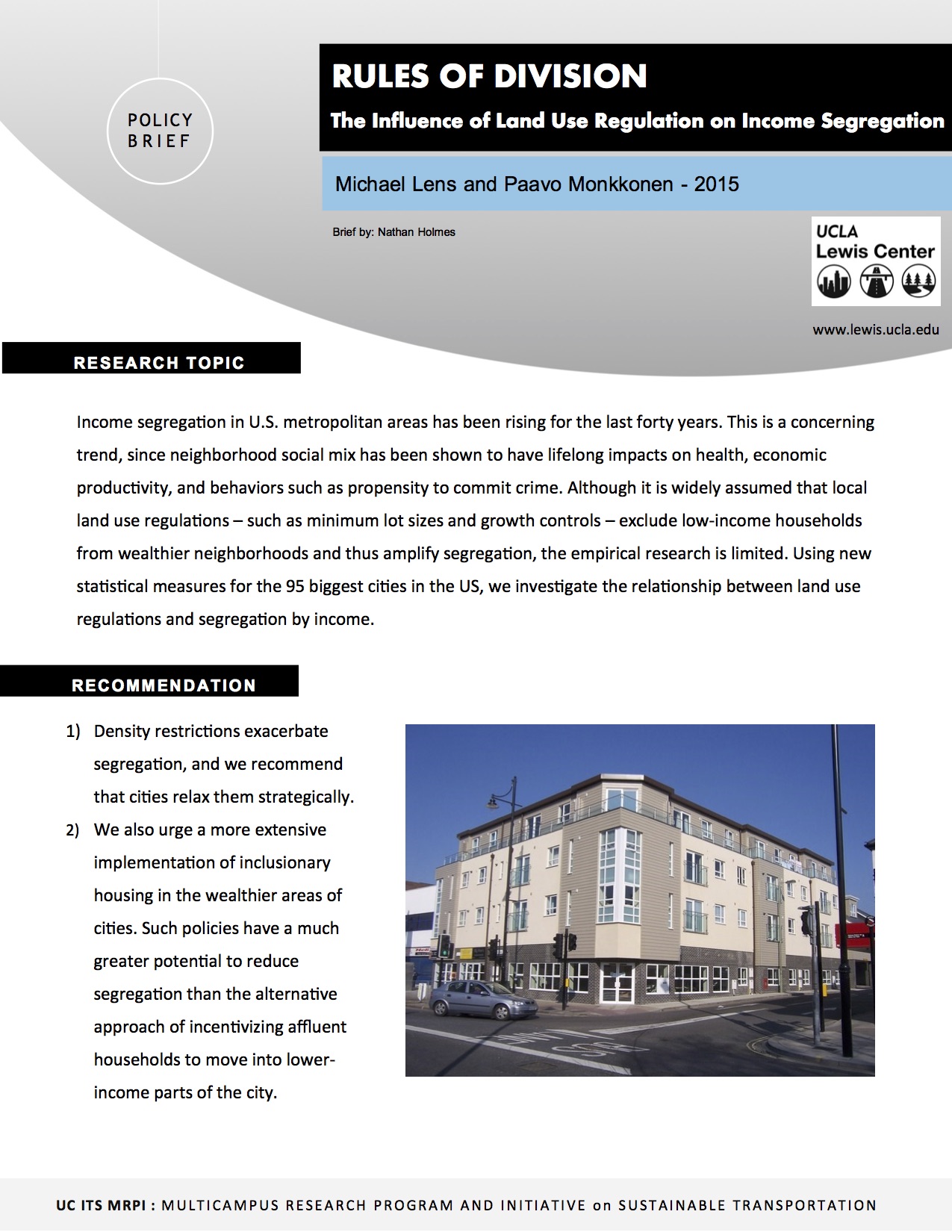 Author(s): Michael Lens and Paavo Monkkonen
Publication Date: April 1, 2015
Original Publication:

Do Strict Land Use Regulations Make Metropolitan Areas more Segregated by Income?


Housing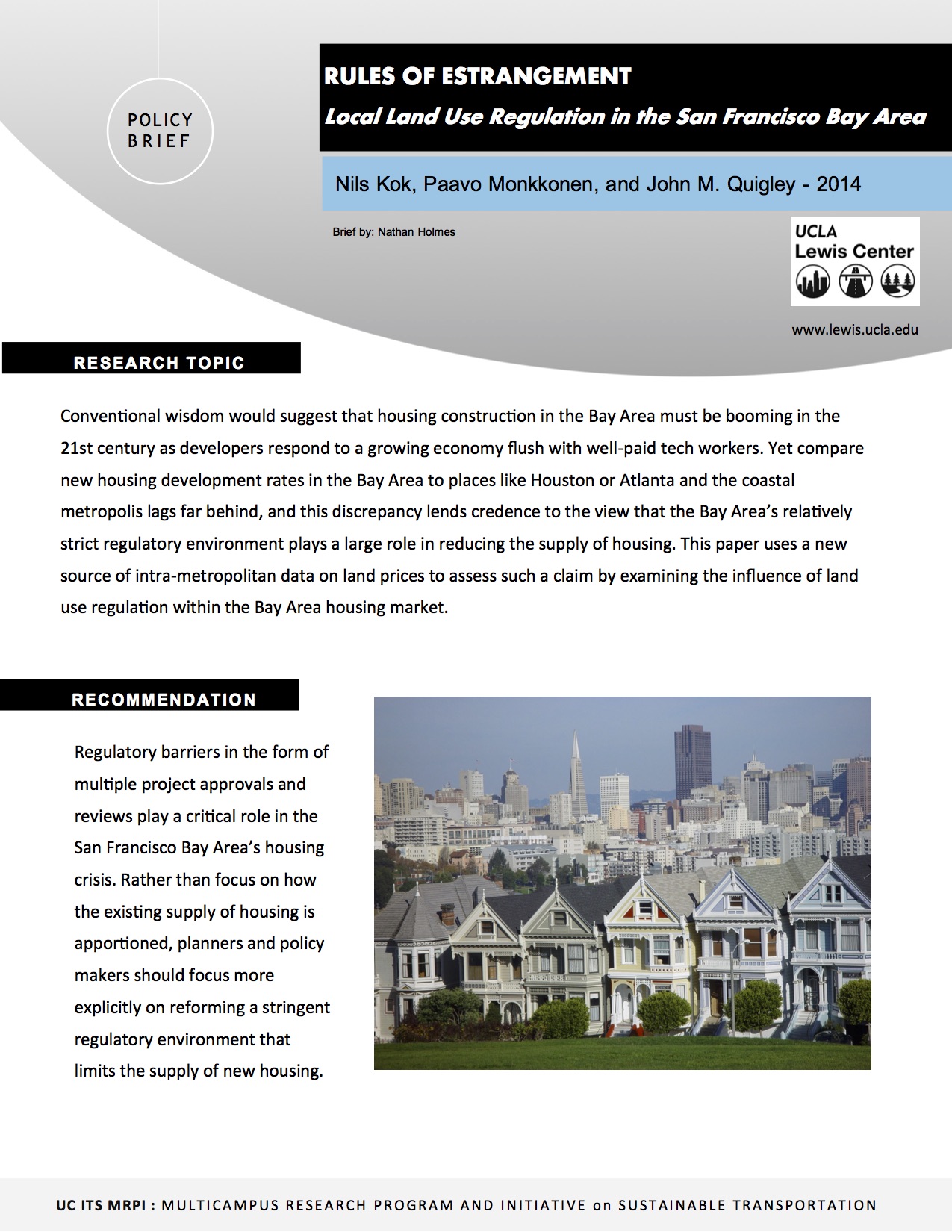 Author(s): Nils Kok, Paavo Monkkonen, and John M. Quigley
Publication Date: May 1, 2014
Original Publication:

Land use regulations and the value of land and housing: An intra-metropolitan analysis


Housing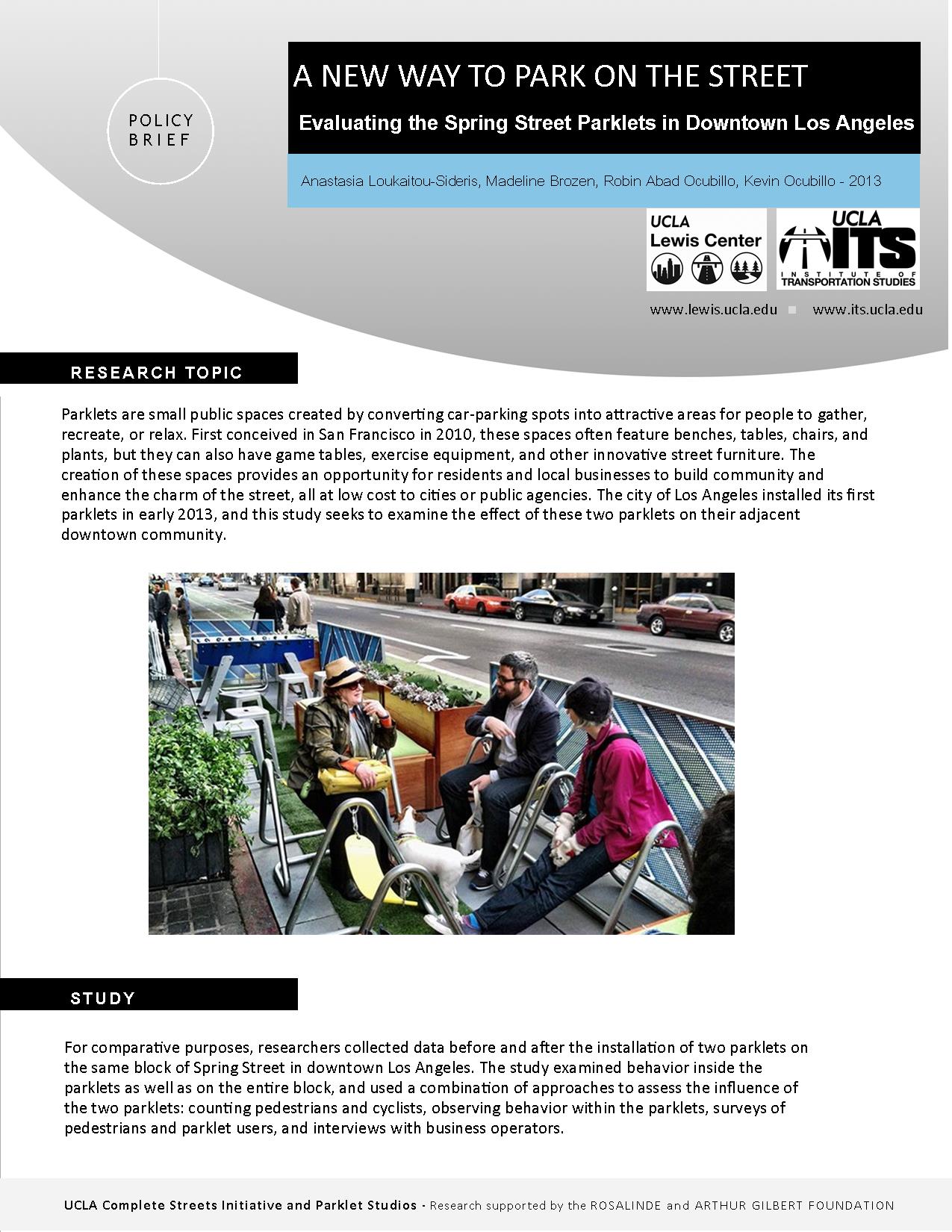 Author(s): Anastasia Loukaitou-Sideris, Madeline Brozen, Robin Abad Ocubillo, Kevin Ocubillo
Publication Date: August 1, 2013
Original Publication:

Reclaiming the Right-of-Way Evaluation Report: An Assessment of the Spring Street Parklets



Author(s): Gregory Pierce and Donald Shoup
Publication Date: April 2, 2013
Original Publication:

Getting the Prices Right: An Evaluation of Pricing Parking by Demand in San Francisco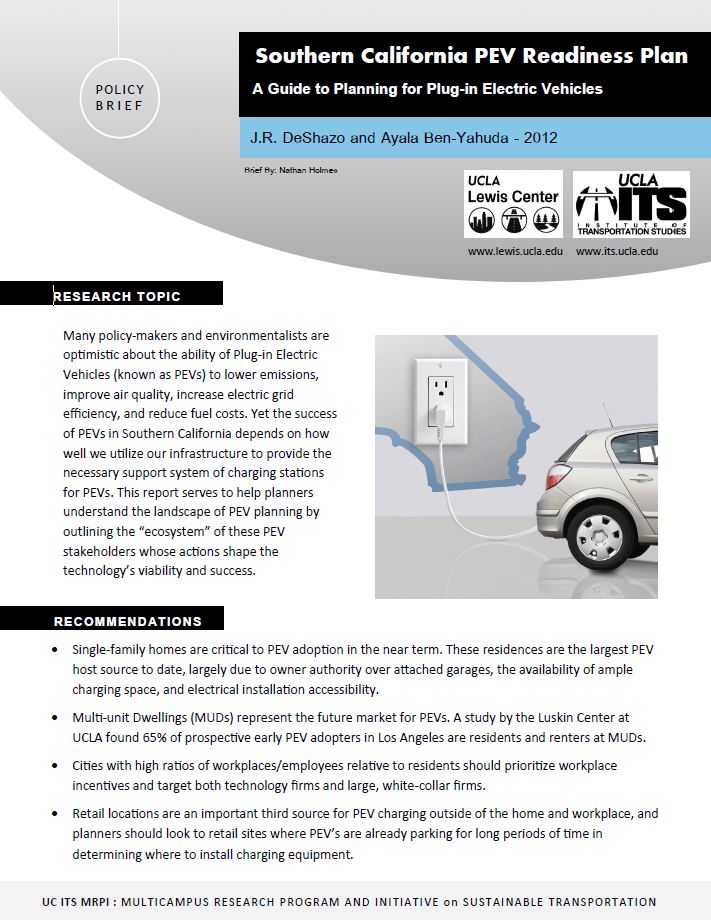 Author(s): J.R. DeShazo and Ayala Ben-Yahuda
Publication Date: December 1, 2012
Original Publication:

Southern California Plug-In Electrical Vehicle Readiness Plan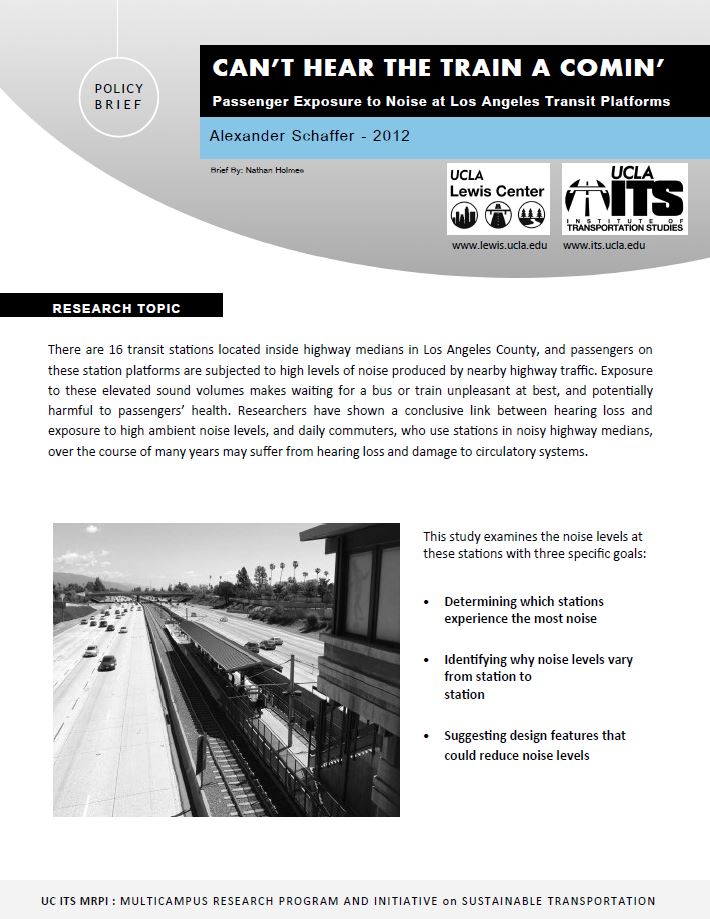 Author(s): Alexander Schaffer
Publication Date: July 1, 2012
Original Publication:

Passenger Exposure To Noise At Transit Platforms In Los Angeles



Author(s): Juan Matute
Publication Date: February 1, 2011
Original Publication:

Measuring Progress Towards Transportation GHG Goals: Required Actions for Successful SB 375 Implementation


Housing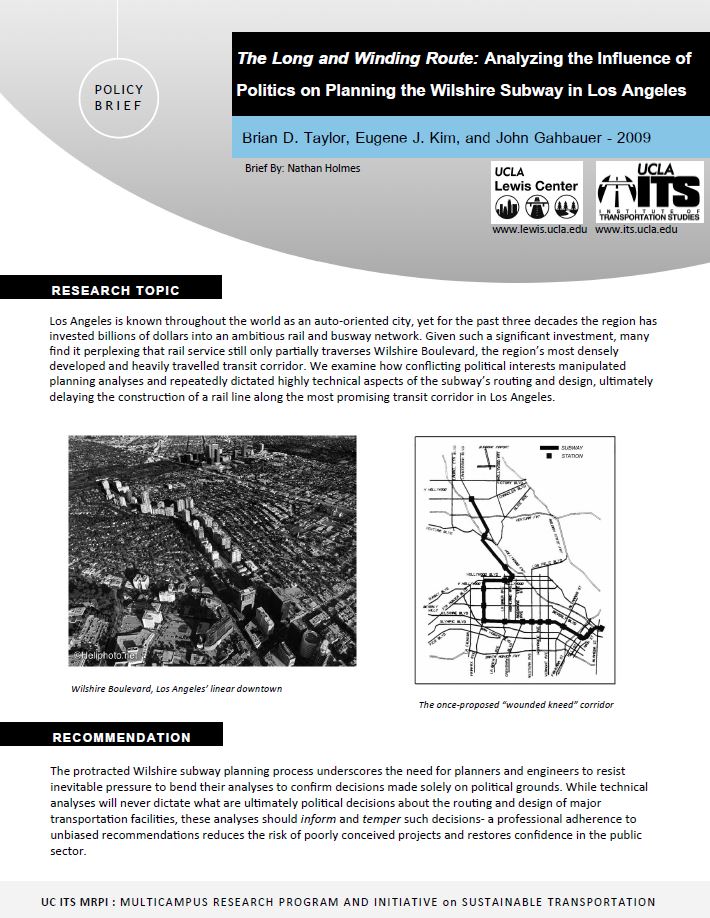 Author(s): Brian D. Taylor, Eugene J. Kim, and John Gahbauer
Publication Date: December 1, 2009
Original Publication:

The Thin Red Line: A Case Study of Political Influence on Transportation Planning Practice