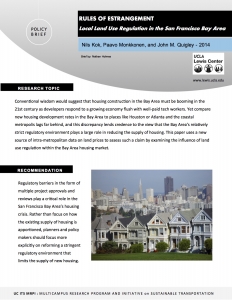 Author(s):  Nils Kok, Paavo Monkkonen, and John M. Quigley
Conventional wisdom would suggest that housing construction in the Bay Area must be booming in the 21st century as developers respond to a growing economy flush with well-paid tech workers. Yet compare new housing development rates in the Bay Area to places like Houston or Atlanta and the coastal metropolis lags far behind, and this discrepancy lends credence to the view that the Bay Area's relatively strict regulatory environment plays a large role in reducing the supply of housing. This paper uses a new source of intra-metropolitan data on land prices to assess such a claim by examining the influence of land use regulation within the Bay Area housing market.
Recommendation: 
Regulatory barriers in the form of multiple project approvals and reviews play a critical role in the San Francisco Bay Area's housing crisis. Rather than focus on how the existing supply of housing is apportioned, planners and policy makers should focus more explicitly on reforming a stringent regulatory environment that limits the supply of new housing.
Download Policy Brief
Link to Original Publication