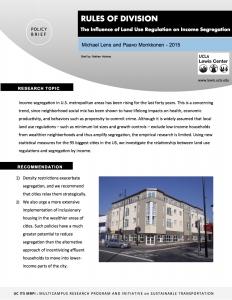 Author(s):  Michael Lens and Paavo Monkkonen
Income segregation in U.S. metropolitan areas has been rising for the last forty years. This is a concerning trend, since neighborhood social mix has been shown to have lifelong impacts on health, economic productivity, and behaviors such as propensity to commit crime. Although it is widely assumed that local land use regulations – such as minimum lot sizes and growth controls – exclude low-income households from wealthier neighborhoods and thus amplify segregation, the empirical research is limited. Using new statistical measures for the 95 biggest cities in the US, we investigate the relationship between land use regulations and segregation by income.
Recommendation:
1)  Density restrictions exacerbate segregation, and we recommend that cities relax them strategically.
2)  We also urge a more extensive implementation of inclusionary housing in the wealthier areas of cities. Such policies have a much greater potential to reduce segregation than the alternative approach of incentivizing affluent households to move into lower-income parts of the city.
Download Policy Brief
Link to Original Publication