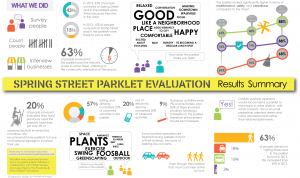 Author(s):
Madeline Brozen
Date:
August 26, 2013
Publication:
Lewis Center/Institute of Transportation Studies
Project:
Reclaiming the Right-of-Way: Evaluation Infographic
This summary inforgraphic serves to help people get a quick picture into the evaluation work at the Spring Street parkets. By comparing year-over-year data, the team found that a more vibrant, lively community has grown around the Spring Street parklets. The parklets appeared to contribute to the walkable neighborhood on Spring Street, with data showing that 50 percent of visitors to the area in 2012 arrived by foot, while in 2013, 63 percent of area visitors were pedestrians. The team found that 63 percent of parklet users were local residents. The parklets also helped improved perceptions of the area, with positive reports of maintenance (63 percent vs. 88 percent), safety (78 percent vs. 88 percent) and cleanliness (49 percent vs. 68 percent) all increasing with statistical significance from 2012 to 2013. Many business owners in the area, while a bit concerned about the loss of parking, told the researchers they would recommend parklets for merchants in other districts, especially those on small, pedestrian-oriented streets with cafes or restaurants in the area.
Link to Publication