Juan Matute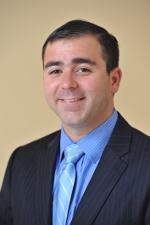 Associate Director,
UCLA Lewis Center and the Institute of Transportation Studies

Lecturer,
UCLA Institute of the Environment and Sustainability and UCLA  Department of Urban Planning
Program Manager, 
UCLA Local Climate Change Initiative
Phone: (562) 546-2831
Email: jmatute@ucla.edu
Office: 3320D Public Affairs, UCLA
Biography:
Juan Matute studies a number of areas relating to the future of urban mobility and accessibility, including sustainable transportation and land use, transit, SB 375 implementation, transportation as a service, and local government climate planning.
His work with JR DeShazo on frontiers in local greenhouse gas emissions measurement and management was published in the Oxford Handbook of Urban Planning.  In 2013, Juan instructed and advised a team of seniors in UCLA's B.S. Environmental Science program as they created a carbon neutral scoping plan for the City of Hermosa Beach.  This year, Juan is working with another student team to explore policy options to decarbonize the electricity supply in Hermosa Beach.
In 2013, Juan worked with Stephanie Pincetl on a study of California policies indirectly linked to petroleum use.  That study, Unraveling Ties to Petroleum, was published by Next10.
Juan worked with Caltrans to develop a Statewide Transit Strategic Plan and currently manages an implementation measure to encourage California's transit community to share best practices, TransitWiki.org.
His work to translate transportation and climate change research into forms useful to policy-makers and practitioners includes a paper for the California Energy Commission to introduce life-cycle assessment of energy and emissions into transportation decision-making and service as co-chair of the Transportation Technical Advisory Committee for ICLEI's U.S. Community Greenhouse Gas Accounting and Reporting Protocol.  In this latter role, Juan wrote the technical methodology that California local governments now use to account for greenhouse gas emissions from light and medium-duty vehicles.