Herbie Huff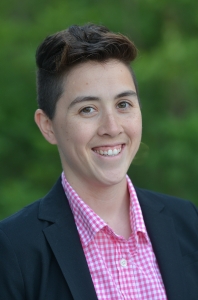 Biography:
Herbie Huff is a Research Associate and Communications Manager at the Lewis Center for Regional Policy Studies and the Institute for Transportation Studies. Her research focuses on bicycling and walking transportation, and often hinges on all-too-rare direct observations of bicyclist and pedestrian volumes. She is bringing these data to bear on questions of bicyclist and pedestrian safety, mode choice, and the effects of bicycle and pedestrian infrastructure. She has been a leader in developing standard methods and data aggregation tools for bicycle and pedestrian counts, e.g. bikecounts.luskin.ucla.edu. In her role as communications manager, Herbie oversees communication of research results and center accomplishments, and fields requests for expertise from the press. Herbie is also a lecturer for the Department of Urban Planning and the Department of Public Policy, teaching Introduction to Geographic Information Systems to graduate students.
Prior to joining UCLA, Herbie worked as a transportation planner focusing on bicycle and pedestrian planning. She has contributed to bicycle and pedestrian plans and other studies of active transportation for over 30 local governments in the Southern California region.
Herbie holds a M.A. in Urban Planning from UCLA and a B.S. in Mathematics and English from Harvey Mudd College. She is a Mayoral appointee to the City's Bicycle Advisory Committee and a board member at the Los Angeles County Bicycle Coalition.